12 expert tips on how to make your website great in 2017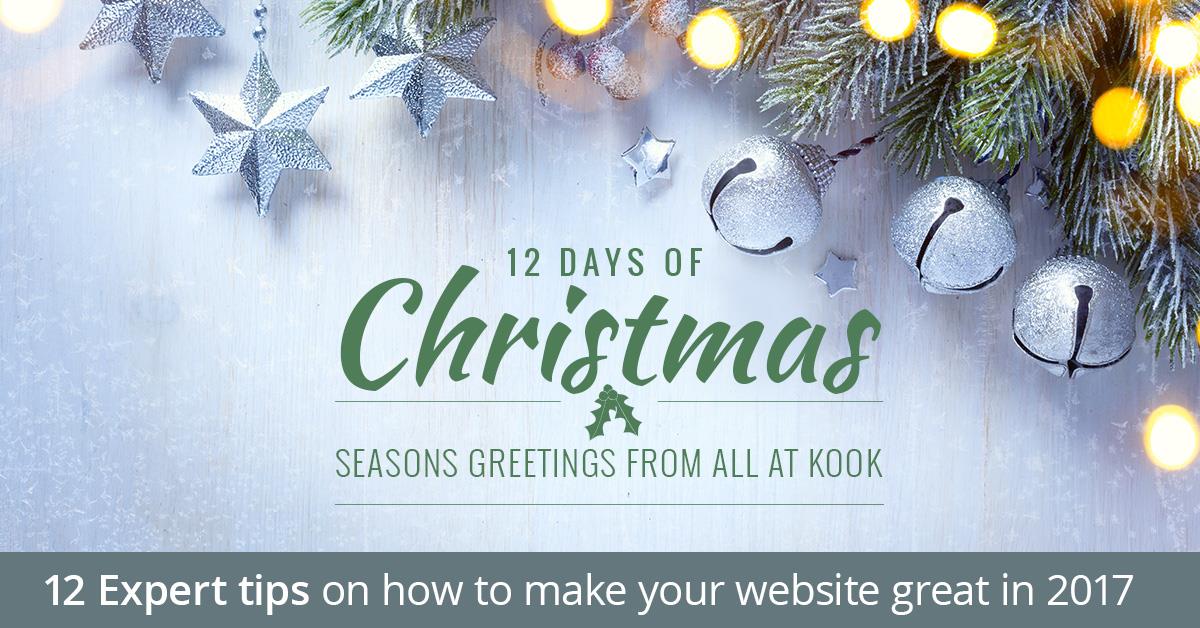 12 Days of expert tips on how to make your website great – let kook help you to get the best out of your website in 2017.
---
Day 1 Tip : The world is in a rush...make it easy!
People are in a rush (especially at Christmas) and will prefer a quick process over a drawn-out process. You may give someone a full page of the best written information known about the item, the vast majority of people will simply skim over this to the relevant details. If you bury the pricing for the product, or shipping details, within this wall of text most of your users will miss this critical detail. You need to learn to highlight the important contents in specific elements so that people who have already visited 10 other sites looking at the same product can easily compare the critical details, price and delivery cost between the several sites they have open with the same product information shown.
---
Day 2 Tip : Landing Pages are key...Make them sing!
The front page of your website may never be seen by your customer if you run an eCommerce store. People search for products and will likely land on a product page from Google search results. You can put an infinite amount of effort into making your front page as appealing as possible however if the same design doesn't flow across to your category and product pages it's not going to have as much impact as you think. A lot of people think of a website as a modern paperback where the front page of your site is like the cover of your book designed to draw the user in and find it, in reality it's more like a modern phone book, people open the book part way through and process from there.
---
Day 3 Tip :
Remove sticking points...make it quick!
Keep your restrictions on the checkout process to a minimum. Don't force users to sign up for an account. The need to sign up for a user account for your website in order to make a purchase is just creating a hurdle between them putting in a credit card and sending you money. You are getting their email address and key details as part of the checkout process, don't confuse that by asking for usernames etc, their email is their username! Don't make the process verify themselves via email or similar. The risk is people get annoyed with you forcing them to go out of your site to their email, perhaps mobile device where this is not a simple process, simply so you can possibly market to them in the future. Keep the checkout process as simple as possible.
---
Day 4 Tip :
Hide offers that you can't deliver on...increase satisfaction!
Hide your promotional code field if you don't have an active promotional code. If a customer sees a promo code on the checkout page the likelihood is they will open a new window in an attempt to find a promotional code. If you don't have an active promo code or they find a number of inactive voucher codes on a coupon site they then get frustrated with the checkout process and might actually leave to use a coupon they found on an alternative site during their search. So you've achieved the opposite of what you're trying to achieve with the promotional code by reducing your customer satisfaction and conversion rate.
---
Day 5 Tip :
Understand your customer...track them!
Your website's number 1 goal is to turning visitors into customers, so you need to understand why your visitors are leaving! Google Analytics is a service offered by Google for measuring visitors on your website, and exploring how they engage and navigate with it. Google Analytics can present useful data on your website and its visitors, including: how many visitors your site gets, how often they visit, what they are looking for and where they left you. Analytics helps you decide whether the time and money you are putting into your website is paying off or not. Talk to Kook about what your stats are trying to tell you.
---
Day 6 Tip :
Correct

positioning of your product or services

...make it attractive!

Offering budget and premium versions of your product or service helps to frame your core offering(s) in a more attractive light. Often a customer doesn't know exactly what they need – they will often want the 'in between' version that is neither 'basic' nor 'full-featured'. Occasionally you will get the odd customer who DOES want the best of the best, and is willing to pay for your premium service. Alternatively, you may get some customers who DO want the 'cheap'… just make sure that customer has a clear path and incentives to move upward from the lowest prices offering, either immediately or in the future.
---
Day 7 Tip : Learn why you need a Webmaster...your SEO success depends on it!
SEO success depends on how well you've mastered your website. Knowing how to get the balance of words right for the search engines like Google versus what will make a human click is actually quite a science. How do you tell? You analyse the traffic, including benchmarking your site against others, make changes you think (or know by experience) will work, then measure again. Small, incremental changes month after month and analysing their effects is far better than making massive changes and not knowing what worked and what didn't. That's Webmastering.
---
Day 8 Tip : Balance Your Attention...make the most of your efforts!
How much time do you spend marketing your site? How much time do you spend improving your site? Doing one without the other will nearly always mean that your budget isn't working as hard as it could. Why spend money advertising a website that doesn't have an effective design or call to action? Conversely, why build an amazing site if you don't have an effective marketing strategy in place so people can find it? Strike the right balance between the two and you'll ensure that all of your digital efforts have the best possible chance of converting into something meaningful for your business.
---
Day 9 Tip : Increase conversion rate...build trust!
One of the biggest hurdles for any eCommerce business is trust. In the world of bricks and mortar, trust is built on factors including presentation, staff interactions and the word-of-mouth from other shoppers. In the digital space, trust is essential. Without staff interaction, and a physical location to view the goods – how do you build trust? The answer is confidence triggers. Confidence triggers are well placed messages that give your customers the extra confidence they need. When strategically placed, these confidence triggers should encourage customers to add to cart, or to complete the checkout process. Common confidence triggers include; Making sure your ecommerce site has a clear shipping policy and shipping rates, stating your site has SSL security and is verified by a known payment gateway provider, advertising your returns and warranty policies and ensuring that they are as flexible as possible, embedding customer reviews into your product pages and checkout. Mastering these confidence triggers will reassure shoppers that your store can be trusted, and will make them much more likely to make a purchase.
---
Day 10 Tip : D.I.Y. online advertising… W.A.S.T.E.F.U.L.!
Managing your own online advertising? You're likely wasting hundreds if not thousands of dollars and missing out on numerous opportunities. A professionally managed digital advertising campaign should be focussed on getting the largest return on investment possible while maintaining your brand's integrity. Make sure that whoever is managing your advertising is using first to market features, is focused on relevant data and KPIs and is always A/B testing improvements to ensure improved performance.
---
Day 11 Tip : Stay on top of your social media accounts… this is your online reputation!
When was the last time you looked at your business Facebook page? What about your reviews on Google or Product Reviews? Do you have an Instagram or Snapchat account? Because your prospective clients have all of these, and are viewing you every day through these channels. Stay on top of them and monitor comments, reviews and messages, as this is the new frontier for customer service. Don't ignore your social media channels!
---
Day 12 Tip : A picture's worth a thousand words… use them!
Visual content in your social media posts is key to catching the eye and upping the clicks. Even if your original post is just text adding a picture or video that's in theme and relevant is less likely to be scrolled past. Market research by Facebook states that adding an album, image or video to your social media post you can increase engagement by 180%, 120% and 100% respectively. Memes can be an effective way of getting short points across.