The keys to successful Facebook Ads management for large or small businesses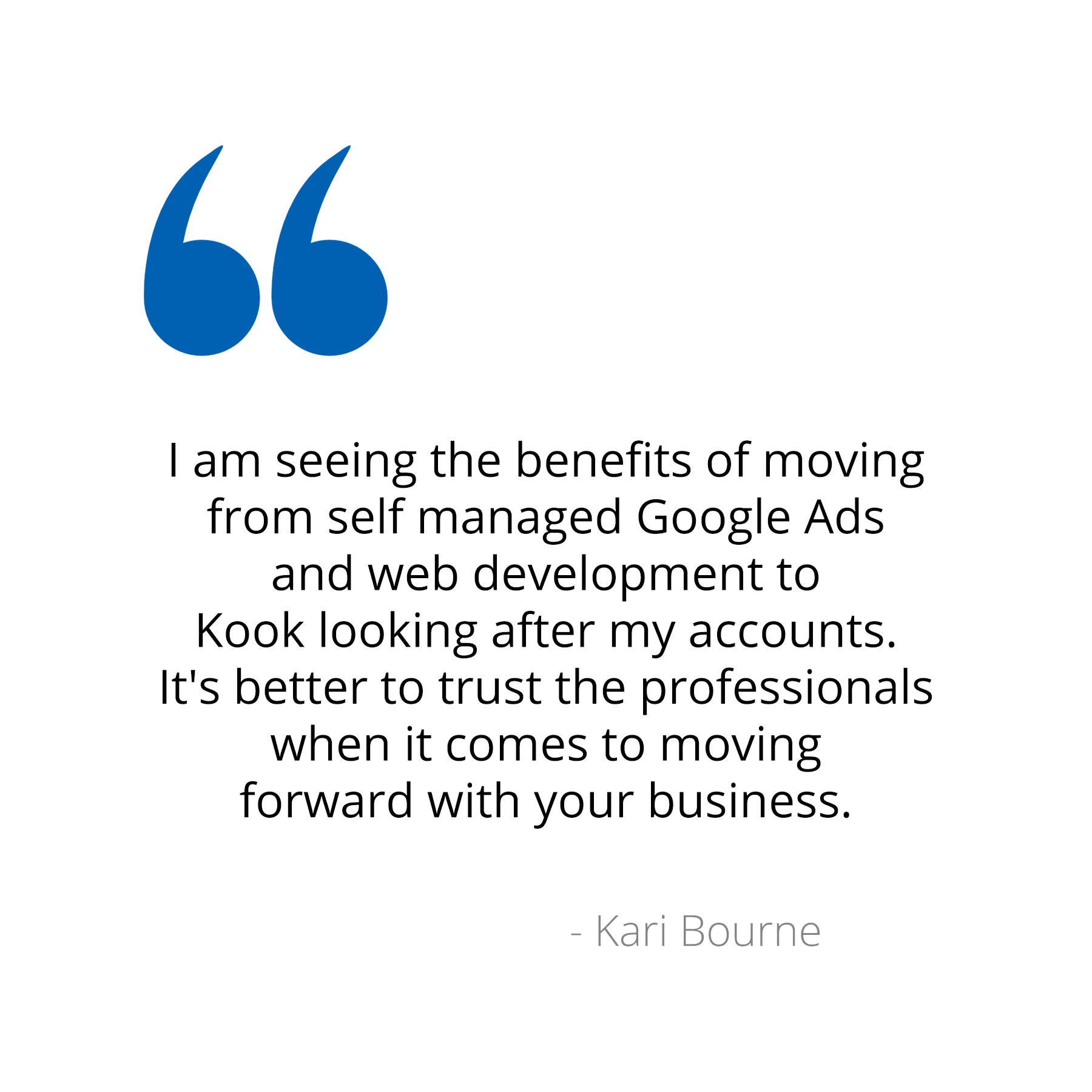 Your Facebook and Instagram advertising strategy needs to take into account your business goals and what stage of their customer journey your target audience is in. Learn more about determining your Facebook Ads campaign objective, cold or warm audience targeting options and the importance of delivering the right message.
Kook tailors your social media marketing strategy based on your particular business goals, while also taking into account the three primary stages that map your customer journey – awareness, consideration and conversion.
Determining your Facebook Ads campaign objective
Facebook and Instagram advertising objectives can include:
Generating leads, including:

Direct messages (Facebook Messages campaign)
Lead form submissions on Facebook (Lead Generation campaign)
Phone call clicks or enquiry form submissions on your website (Website Conversion campaign)

Ecommerce transactions for online stores (Product Sales Catalogue campaign or Offer campaign)
Increasing foot traffic to a brick and mortar retail outlet (Store Visits campaign or Offer campaign)
Increasing event attendances (Event Responses campaigns)
Getting people to install your app (Appl Installs campaign)
Ensuring prospective customers know your business exists (Brand Awareness campaign)
Staying top of mind, including increasing social media engagement (Video Views campaign, Post Engagement campaign or Page Likes campaign)
Multiple advertising campaigns can run alongside one another if you have multiple objectives. This can include setting up marketing funnels to essentially provide different touch points at different stages of the customer journey from initially learning about your offerings through to the lead or sale.
Your Kook digital marketing expert will not only determine the best type of campaign structure to achieve your goals, but also ensure the targeting utilised for each campaign enables your advertising budget to be spent effectively on prospects who are more likely to convert.
Cold audience targeting on Facebook Ads
Facebook and Instagram offer the most powerful targeting options available on any advertising platform in the world, but it's vital to correctly leverage these capabilities.
When using demographic targeting to reach cold audiences – those who do not yet know your brand – it's absolutely critical that you reach only those most likely interested in your product or service out of Facebook's 1.5 billion plus daily active users or you'll be wasting an enormous portion of your spend.
Using the data collected by Facebook about a user's demographics, interests, behaviours and geographic location (including where they live, work and visit), Kook is able to very specifically target your Facebook Ads to an exact audience – and therefore reach your ideal customers.
Learn more about targeting ads by demographic on Facebook.
If you're unsure of your customers' demographics, interests or behaviours, Lookalike audiences created from existing customer databases can meanwhile remove the guesswork. Utilising Facebook's powerful algorithms and in-depth knowledge of all its users to find people who most closely match those who have already done business with you, lookalike targeting is often an extremely effective alternative method for reaching relevant cold audiences.
Find out more about how Kook can help you reach people similar to your customers with Facebook lookalike audiences.
Warm audience targeting with Facebook Ads remarketing
Kook can also advertise your business to those who have already engaged your business on social media or visited your website.
If fact it's possible to show prospective customers ads relevant to products or services that they're interested in based on the specific pages of your website that they've visited.
This really is the lowest hanging fruit, as you're targeting people known to already be familiar with your brand.
Discover the ins and outs of utilising a Facebook remarketing audience to maximum effect.
Delivering the right message based on the objective and audience
Generating the highest quality conversions at the lowest cost possible you're your Facebook and Instagram advertising also relies heavily on delivering the right message to the right people.
Various ad formats can be utilised – including single image ads, carousel ads, Facebook canvas, video ads and more – but it's key that the messaging speaks to the target audience and includes a clear call to action relevant to the objective. If linking to your website, the chosen landing page should also be relevant to the ad.
With professional design services coupled with digital marketing expertise, with a track record of crafting scroll-stopping visuals accompanied by ad copy written to really speak to your potential customers and drive results, Kook can handle every aspect of your Facebook and Instagram advertising.
Learn more about how Kook's Facebook Ads management services can help to grow your business.
What's next, Kook?
A meeting with us costs NOTHING. Even if you have an inkling you aren't getting the results you'd expect, let's have a chat.