Expert Facebook Ads management can fuel your business growth
Is your business maximising the option of targeting your prospective customers where they're spending a lot of their time?
When marketing your business, it pays to show up where the eyeballs are. These days, that's Facebook and, more and more, Instagram. And because Facebook Ads' targeting options takes the guesswork out of advertising, you can stop wasting dollars on reaching a mass audience in the hope that your ad will reach someone who fits your target market.
While search campaigns on Google Ads are ideal for targeting people actively looking for a product or service, Facebook Ads enables businesses to target their ideal customer based on their demographics, interests, activities and behaviours.
It also enables the creation of custom audiences so you can show ads to:
Existing customers, to prompt repeat business
People who most closely resemble your existing customers (taking into account everything Facebook knows about all of its users)
Anyone who has engaged with your social accounts and/or visited your website
While Facebook's targeted marketing capabilities are powerful, however, it pays to have your social media marketing strategy implemented and continually optimised by campaign management specialists at a Facebook Ads agency such as Kook. There are many potential pitfalls relating to DIY attempts at advertising on Facebook and Instagram that are best to be avoided or you may find your campaigns leaking a lot of money for not much in return.
Contact Kook about Facebook Ads management
Key components of successful Facebook Ads campaigns
Because of their visual component, ad placements on Facebook and Instagram work particularly well for businesses that:
Have a product or service that can be visually represented in some way – whether graphically, photographically or utilising video
Know their ideal customer avatar or at least have a solid idea of who their target audience is
Have campaigns professionally managed by a qualified Facebook agency
The keys to successful Facebook Ads management for large or small businesses revolve around three main components that are vital to consider:
Campaign objective – which should align with the business goals
Audience targeting – including factoring in the stage of the customer's journey relevant to the objective
The messaging – speaking to the target audience with a clear call to action relevant to the objective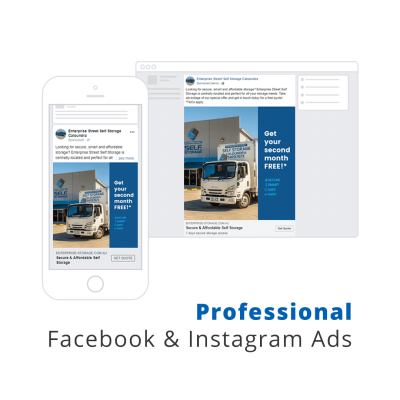 Kook takes time to get to know your business and what you hope to gain from your advertising spend to ensure clarity around those three elements from the very start.
Coupled with ongoing expert optimisation of the campaigns over time, with an aim of continually driving stronger ROI, this approach typically delivers strong results.
Talk to Kook today about leveraging Facebook and Instagram advertising to grow your business.