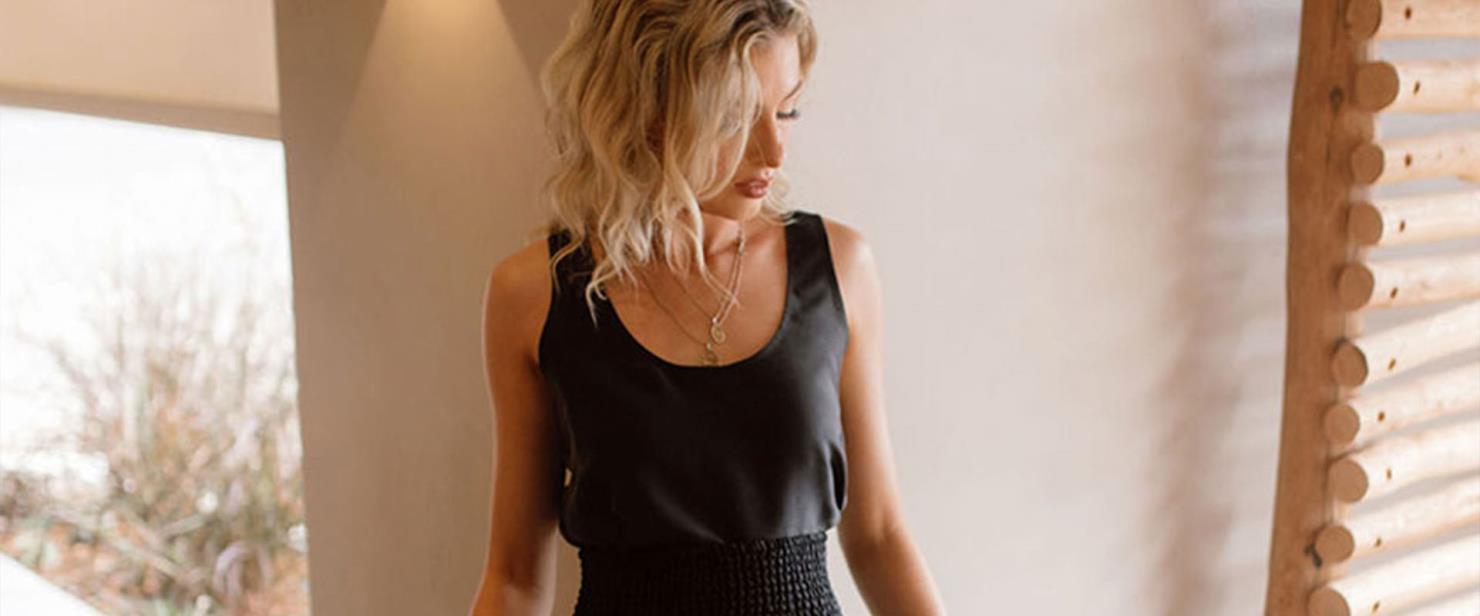 Looking good! 150% increase in sales, organic traffic doubled
Lou Lou Australia
How we helped
Increased organic traffic

New ad channels

Huge revenue gains
The Requirement / Brief
Lou Lou Australia sells women's contemporary bamboo clothing, including dresses, tops, tees, bottoms, outerwear and intimates. In early 2020, Lou Lou's owners tasked Kook with improving brand recognition and ramping up online sales for their Shopify website
https://www.loulouaustralia.com.au/
.
The solution
Kook implemented an ongoing SEO program as well as a strategic paid advertising strategy utilising Facebook Ads, Google Ads and Microsoft (Bing) Ads, as well as testing on TikTok and Pinterest Ads, and additional development projects to improve functionality and UX/UI on the website. Kook has helped expand the paid advertising campaigns into numerous international markets, and has helped develop new features on the website to allow for better conversion rates in international markets.
The Outcome
Since the launch of the Kook-managed strategy, overall traffic increased by 127% with a 135% increase in transactions and a 149% increase in revenue. Users from organic search traffic more than doubled. Overall international traffic more than quadrupled with more than triple the revenue and almost triple the transactions. Expansion into Pinterest Ads and other paid social channels show early promise for additional growth.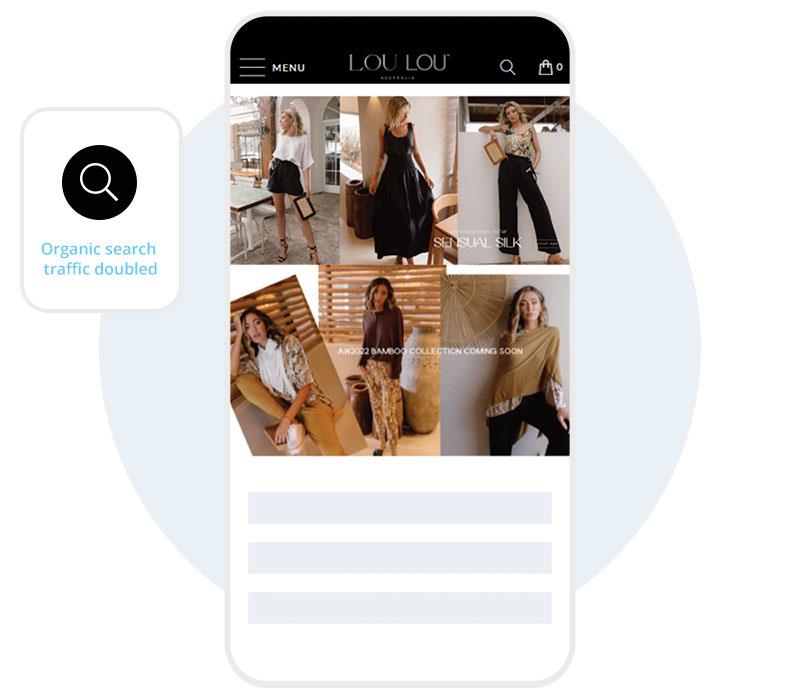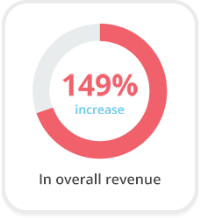 Details
In March 2020, Lou Lou Australia tasked Kook with ramping up online sales and brand recognition for their high-quality line of women's bamboo clothing. Lou Lou's owners sought out Kook's expertise in SEO and online paid advertising. They were clear in their objectives, and stated that they were willing to spend whatever it took to grow the online sales for their Shopify website https://www.loulouaustralia.com.au/ as long as they received a positive return on ad spend. By partnering with Kook, the digital marketing results over this period were outstanding. From the launch of the Kook-managed digital marketing strategy compared to the same dates in the previous period, some of the digital marketing wins include:
Overall traffic more than doubled with an overall increase in revenue of 149% and 135% more transactions
Users from organic search traffic more than doubled, with more than double the revenue and a 96% increase in the number of transactions
International traffic quadrupled (up 302%), with almost triple the revenue (198% up) and transactions (178% up). Revenue from the US, New Zealand, Canada, Singapore, UAE and the UK saw significant increases.
Search visibility has increased 800% since June 2020, with significant increases in what was a minimal domain authority score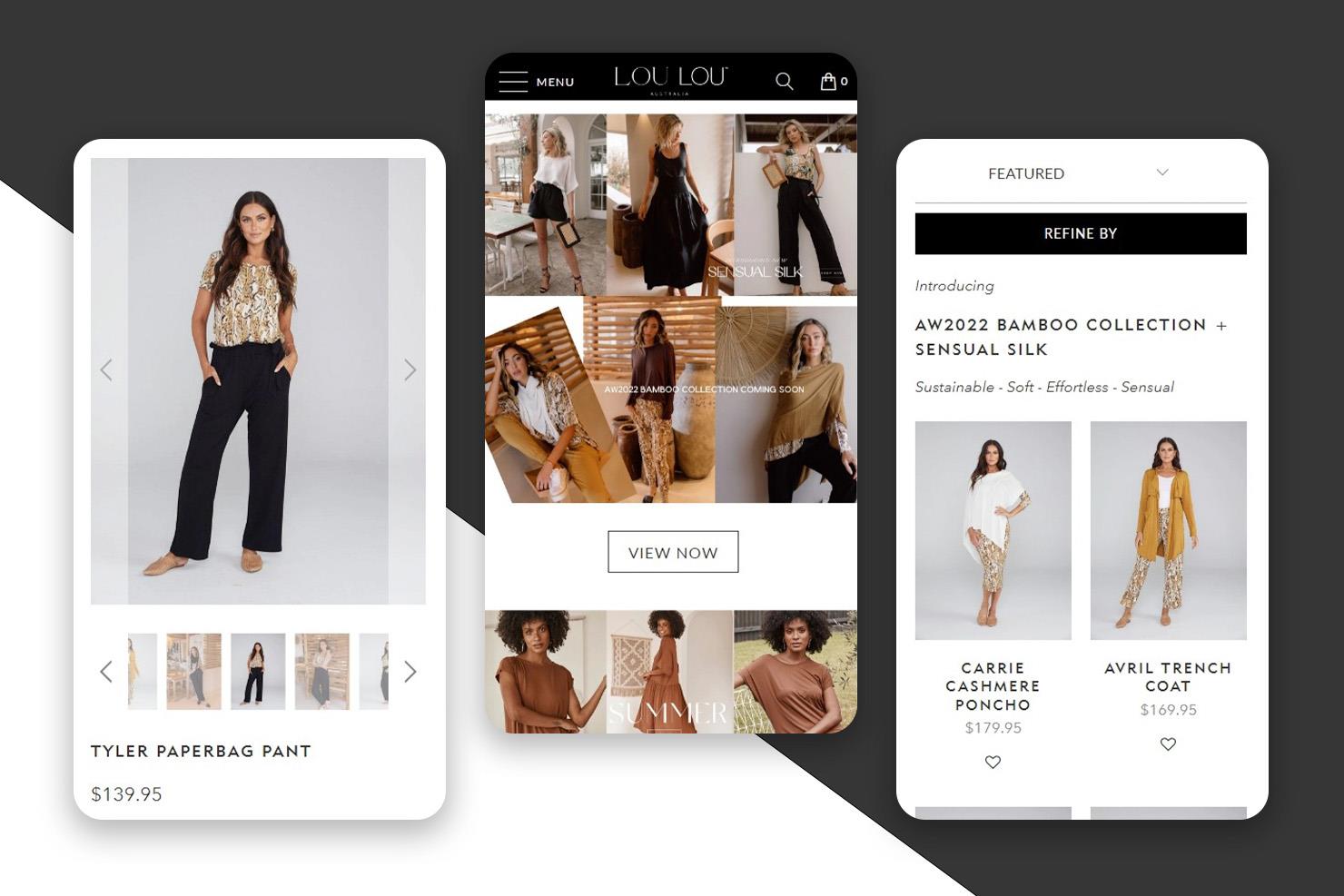 Traffic and sales have continued to grow at a significant rate, with sales up 55% in 2021 compared to the same dates in 2020, and overall traffic up by 52%.
UX/UI improvements to the website spearheaded by Kook have also included integration of online reviews to serve as confidence triggers, Sold Out / Coming Soon labels for products, currency converters for international clients, and more.