Local Search. What is it and why does it matter?
There's been terabytes of info written on "Local Search" digital marketing but it's still poorly misunderstood. It's a multi-faceted subject, but understanding the implications of it are immense for the savvy business owner, regardless of whether they sell online or not.
The biggest issue is that most of the explanations are written as if local search is a single thing – something you do that Google magically takes hold of and helps you attract eyeballs when someone is searching locally. But it's not nearly as simple as that.
Digital marketing is experiencing huge shifts - driven by changes in technology that is then changing the habits of consumers in the way they move through the sales funnel. If you aren't aware of changing search habits of users, you will lose market share to those who are.
The biggest shift in thinking in digital marketing is what is commonly termed "micro-moments". We will et to more on that in a second, but let's start with the basics on local search.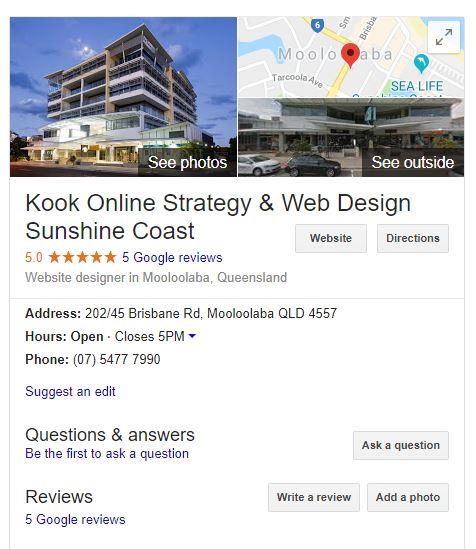 Everyone knows the most popular local search, which is Google's normal organic SERPs search results (and all the other search engines). Then there are local search ads such as Google AdWords (primarily found with a search engine, but also in ads on other websites). Next we have local directories (found in search engine results but also heavily advertised on TV and radio to encourage you to use their own search by going to their website – think Sensis and Local Directories).
It's a bit of a circular argument. Whereas once upon a time you needed to write your suburb or region into your query, such as "plumber Mooloolaba" or "tiler Sunshine Coast", there's now much less need (well, unless you're somewhere else other than Mooloolaba or the Sunshine Coast). The use of geolocation (such as GPS on your phone, IP address of your internet connection etc) means it's redundant for local searches. Even in Facebook's search, it knows where you are and adjusts its results accordingly.
(Sidebar: Many businesses may in fact find while they deal with suburbs right across a region such as the Sunshine Coast, their strategy actually needs to be multi-suburb focussed because that is how consumers search. So a plumber who works right across the Sunshine Coast may in fact struggle as their principal place of business is in Caloundra (which Google knows), while consumers searching for "plumber Maroochydore" will be far more likely to be shown businesses with that location, unless of course a Sunshine Coast-wide business has multiple addresses. Phew)
So let's go back to micro-moments. These are critical touch points within today's consumer journey and when added together, they ultimately determine how that journey ends.
Google research shows we check our phones 150 times per day, for an average of not much more than a minute.
OK that sounds like a LOT. But think how many times you grab your phone and check email, or quickly Google something while you wait for a friend, or research something on the couch at night during an ad break on TV.
So it's pretty nonsensical to think that one particular channel is the key to sales. Now, let's look at how that affects local search.
Ideally, the savvy business owner wants their product or service in front of you as many times as they can during the peak time you are ready to buy (or make the decision on from whom to buy it).
We are on multiple different platforms each day – Google, Facebook, Twitter, Instagram, news websites and so on. In order to take advantage of these micro-moments you need to be wherever your customer is on the journey to where they eventually purchase. And just as importantly, when they are seeing you there.
You also need to know why they are there. Your most profitable customer may be finding you on Instagram, going to your website to look at your product and then going onto your Facebook page to look for reviews.
And now, for the really complex part.
After you've spent all that time deducing how to get in front of your local customer, what method are they most likely to purchase? Do they want to visit you next before purchasing, buy online or just get more info? Are they likely to buy now, tomorrow or in a week? They may want to "buy local", even though it's a product they can get from elsewhere – perhaps because they can bring it back to you for warranty, for example – but want to actually buy it from their phone on their couch.
As you can see, local search is anything but easy to define, let alone analyse and implement a robust strategy. But in the digital world, regardless of whether your business is based in Mooloolaba like Kook, or in Maroochydore, Caloundra, elsewhere on the Sunshine Coast or anywhere else in Australia, it's critical to understand.