Has a Google glitch caused ongoing indexing issues for key pages of your website?
Google moving the goalposts for SEO is common practice, with core updates typically requiring a shift in strategy. But a deindexing bug in early April 2019 has accidentally impacted search engine rankings. Is your website affected? Learn more!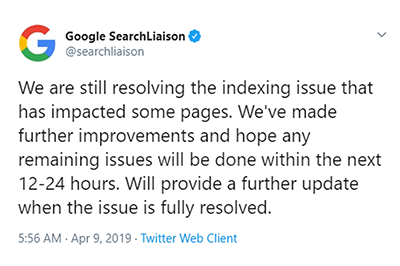 Google moving the goalposts for Search Engine Optimisation has become common practice, with core updates typically requiring a shift in strategy to ensure websites continue to rank as high as possible for priority keywords.
With organic search remaining one of the most important traffic channels for business websites, a Google glitch in early April 2019 resulting in the accidental deindexing of websites worldwide caused substantial drops in rankings – including falling off page one!
Google has indicated the "indexing issues" are not related whatsoever to its most recent core update, occurring on March 12. Although the glitch has reportedly been resolved, it's possible some URLs are still deindexed awaiting Google to recrawl them.
How significant has the Google indexing issue been?
Tools used to monitor Search Engine Results Pages (SERPs) show the ranking flux caused by the deindexing bug has been significant, although temporary in the most part, with most pages regaining their position in the rankings within a day or two.
Research into the glitch conducted by Moz showed about 4% of URLs within a specified dataset were impacted, with drops recorded on April 5 before an initial recovery, a second drop on April 7 and a further rebound.
However there have been reports of websites still suffering ongoing Google indexing issues.

How does the Google glitch affect you?
The Google deindexing bug has not targeted specific sites, with ranking losses widely distributed across many domains. Your website may have been affected, or it may not have been.
One thing is clear: Google Search Console's index coverage and enhancement reporting has been disrupted, so it's best not to make hasty SEO decisions based on potential issues arising from recent data.
Should you believe certain pages of your website are still deindexed, it is recommended to manually submit the URLs via Search Console – focussing on the most important pages first, due to daily limits on URL submissions.
If you've noticed a drop in your rankings or organic traffic early April or since, we'd definitely advise manually reindexing pages rather than hoping Google has already recrawled your site.
If you need assistance with this, the web experts at Kook can assist. Be sure to get in touch with one of our SEO specialists today.