Introducing Microsoft Advertising (formerly Bing Ads)
Microsoft Advertising (formerly Bing Ads) is similar Google Ads, with advertisers bidding on keywords to have their ad appear above organic search results. Both platforms utilise pay per click (PPC) advertising with the goal of reaching targeted audiences, increasing revenue through sales or driving traffic to the website. Unlike Google Ads however, Microsoft ads (formerly Bing Ads) utilise the Microsoft search network consisting of three search engines including Bing, Yahoo and AOL as well as the various owned/operated sites and partnered sites of Microsoft. This diverse network is where Microsoft ads will be seen.
Every time a user does a search on Bing for something that is related to your industry or keywords, you have an opportunity to get your brand noticed and create a potential lead or sale. Microsoft Advertising selects the ads that will be shown for each user depending on its relevancy to the search, the keyword bid and the quality of the ad. The trick is to try get your ad as high as possible in the search results as they are the most eye catching to users.
Benefits of Microsoft ads
By utlising Microsoft Ads in conjunction with or instead of Google Ads you have the ability to:
•
Import already established campaigns from your Google Ads account
•
Have lower competition on ad space - meaning better ad placements
•
Pay less for clicks (lower overall cost-per-click (CPC) in Microsoft Ads)
•
Advertise on the Bing search and/or display networks
Expand your search audience with Microsoft Advertising
With an upwards share of 10% in the search ads marketplace, Microsoft Ads still has great advertising value, attributed largely to Bing being the default search engine on all Microsoft products. This means there is a potentially untapped audience in Microsoft Ads (formerly Bing Ads) that is not offered in Google Ads.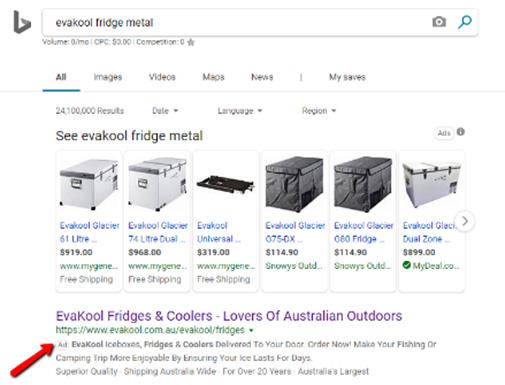 Why choose Kook to manage your Microsoft Advertising SEM campaigns
Here at Kook, we are the experts in digital marketing and as a trusted Microsoft Partner, we have the knowledge and skill set to effectively create your Microsoft ads and generate your business the leads and sales it wants. Figuring out how to attract your desired audience can be tricky, so don't waste money or time on irrelevant clicks, let Kook get you the results you need at a cost that suits you.
We are constantly A/B testing various ads, ensuring we deliver the best results and optimising campaigns for success. With 100% transparency we will let you know exactly how your Microsoft ads are performing with access to all of your business accounts.