Google Shopping: retail therapy for your online sales
If you have an online store and you're not utilising Google Shopping (previously known as Product Listing Ads or PLAs), you are missing a valuable source of sales leads.
This is especially true for merchants of well-known brands and products where it can be difficult to stand out from the hundreds of other sites selling the same goods.
Google Shopping explained
When an online shopper searches for a brand and/or product, Google Ads (formerly Google AdWords) shows products for sale that match the shopper's search at the top of the search results. The reason this works so well is that if a prospect is looking for a blue, size 10 Nike Air Pegasus shoe, or uses the product number, you can be pretty certain they have made up their mind what they are looking for, and you just need to get your ad in front of them.
Just like Google search campaign ads, Google Shopping ads are also based on a Pay-Per-Click (PPC) payment model. As you're not going to get a sale on every single click, Shopping ads are best suited for higher-margin items where you can maximise Return on Investment (ROI). If you have lower-priced items but most customers order many of them, or usually add more products, or the lifetime value of the customer is worth a lot more, these factors can all have a bearing on what you consider ROI.
Let's take the search for "Nike Air Pegasus size 10 blue", the results look like this…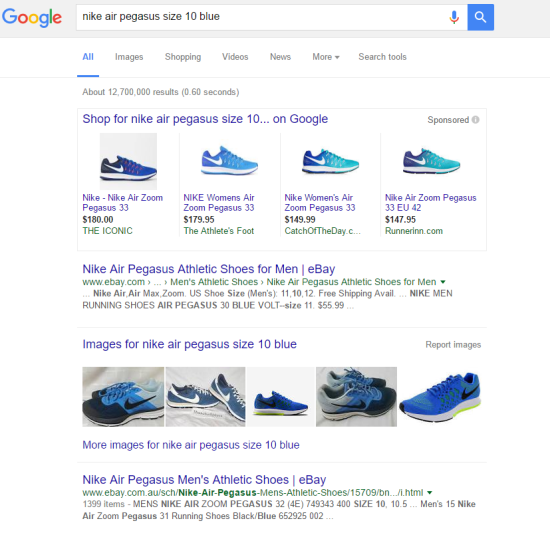 Google Shopping FAQs
What Are The Steps To Get Your Products on Google Shopping?
Firstly, you'll need to tell Google what your products, prices, stock levels, product images and shipping costs are. This involves creating a product feed via Google Merchant Center to send Google Shopping updates on a regular basis. These updates are usually sent once or twice per day, depending on the fluctuations in price and availability, and should ideally be automated and dynamically generated. Google has stringent rules you need to adhere to in order to approve your products, which is why it's important to use qualified developers and Google Shopping certified professionals (experts at implementing automated feeds that update with your website's stock levels for most eCommerce systems).
The items must be in stock, available to purchase on your website and shipping costs need to match those on your site. You can even specify which products use which shipping method (eg Toll, TNT, Australia Post) or you can set the freight rules to match your website. Google is smart enough to audit all these things, and not conforming correctly will see your products de-listed or your entire Google Merchant Center being suspended.
What Are The Costs of Setting Up Google Shopping?
Setting up and configuring a Google shopping feed via Google Merchant Center is rarely an easy process. Even the simplest eCommerce systems / Content Management Systems need configuring to ensure the data matches the Google Shopping product data specifications. The biggest cost is usually ensuring the integrity of the data is sound with all the matching fields, especially required values such as brand, gtin and mpn. You need to be confident that this product feed is sending the right data, updating whenever the website is updated and that you have the ability to change this feed to add custom fields so you can get return.
What do Shopping Ads cost per click?
As Google Shopping ads are based on an auction system, the actual ad budget spend hugely depends on the type of products you sell and only an expert can calculate if you will be able to attain a positive ROI. The more demand a keyword has, typically the higher price the keyword bid will be.
What are some advanced features of Google Shopping?
Feeds can be tailored to send through custom fields to Google and then within Google you can set rules based on these fields. For example, you may wish to send a field to say a product is on sale, then within your advertising set a rule that any item on sale has a 20% higher bid. This will result in more visibility for the sale items.
Contact us today to get your products on Google Shopping.