Social media management case study: Bulking up social success for a fitness nutrition brand
There's little wonder why Facebook and Instagram are two of the most popular social channels for businesses: they have the most active users. About 2 billion and 800 million worldwide respectively per month.
The fact paid ads can absolutely be served across both these platforms, as Instagram is owned by Facebook, is another reason why they make a good pairing.
It's vital to remember, however, that the strategy around posting on your Instagram business account differs considerably to the strategy required on your Facebook page.
Businesses typically struggle to gain traction on social media because they adopt an ad hoc approach without any real thought to strategy.
Here's an outline of how we've helped the Australian distributor of an international fitness nutrition brand's protein powder and sports supplements bulk up their social success across both Instagram – their primary channel – and Facebook.
Kook social media management timeframe: 6 months
Program highlights:
55% increase in Instagram following
93% increase in website sessions originating from Instagram, resulting in 210% more goal completions
350% and 187% increases in Facebook organic reach and engagement respectively
391% increase in website sessions originating from Facebook, resulting in 1900% more goal completions
With Instagram clearly identified as the client's primary channel for building an online community, while seeking to also maintain an active presence and increase brand awareness on Facebook, the social strategy across the Australian social media accounts for the sports nutrition brand has centred on creating, curating and crowdsourcing engaging content for a predominantly male audience.
Promoting the client's hero products, including leveraging the social influence of brand ambassadors to amplify results, has also been important to help deliver business goals, including driving website traffic to tie in with a paid advertising remarketing campaign. This has involved coordination of product promotion by the ambassadors, all Australian bodybuilders with Instagram followings of various sizes – ranging from about 1000 followers to 50,000 followers.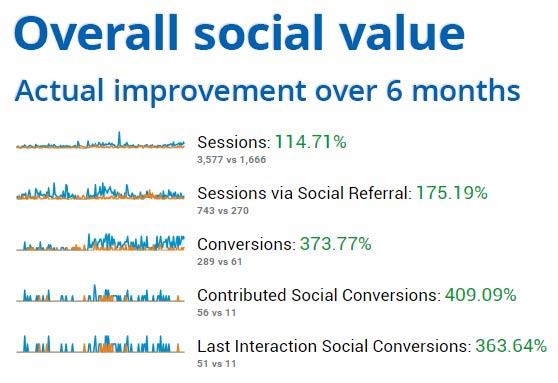 There have been 93% more website sessions originating from our client's primary channel, Instagram, resulting in 210% more goal completions (in addition to also starting to see traffic and goal completions originating from Instagram Stories). Their following on that platform has also grown 55%.
We've also achieved great outcomes on their secondary channel, Facebook, with it now delivering almost as much traffic to the website as Instagram – due to 391% growth in this area – resulting in an incredible 1900% more goal completions than the previous corresponding period before Kook's involvement.
Organic reach on Facebook has grown almost 350%, with engagement up 187% and total page likes increasing 19%.
Our client's feedback: "Kook have been great to work with. Proactive, reliable and easy to work with. They have taken ownership of our brand and treat it like their own."