Smartphone Friendly Website Icon
Search Engine Results
If you're a webmaster or search engine professional, then you need to understand the importance of optimising your search engine results. Even though some of these optimisations are seemingly insignificant, they can provide compounding benefits for your website's traffic and conversions.
Since the listings within search engine results are relatively restricted by Google, small optimisations that set your website apart from the crowd are crucial. The latest of these available optimisations from Google is the addition of the 'Smartphone Friendly Website' icon – an addition which made it's first appearance back in August 2012.
Smartphone Friendly Website Icon
The 'Smartphone Friendly Website' icon offers a huge benefit for both webmasters and search engine users. It provides webmasters with the incentive to mobilise their website content, while also offers users a simple and uncomplicated website experience.
Things To Come
The reflection of this icon into search engine results could be an indication of Google's intentions. Since Google has openly noted that they're looking to demote websites with poor mobile design; it's not unreasonable to assume this introduction is a pre-cursor for things to come (e.g. algorithm changes). Furthermore, as the level of mobile traffic has grown considerably in recent years (i.e. opposed to desktop), there's a high likelihood that this feature will be standardised soon.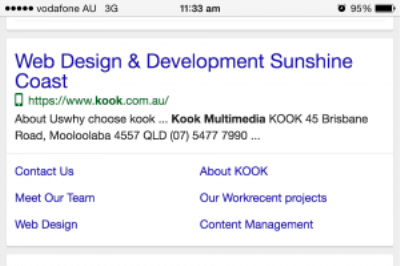 As you can see from the screenshot above, the 'Smartphone Friendly Website' icon appears adjacent to the website's URL (browsing in Google Chrome). It is worth keeping in mind that the display of this icon will vary based on your smartphone's web browser.
When the icon made it's initial appearance over two years ago, a Google representative confirmed: "We're experimenting with ways to optimize the mobile search experience, including helping users identify smartphone-optimized sites." This icon presents just another advantage for optimising your website for the mobile audience. This introduction is particularly important for websites that derive a substantial volume of traffic from organic search results.
Mobile Responsive Web Design
We've discussed the importance of mobile responsive web design in the past, particularly in reference to search engine results. Essentially, a mobile responsive website is a win-win for both the user experience and search engine performance.
If mobile visitors are unable to navigate, engage or purchase on your website; then you're losing a conversion. Even more importantly, you're leaving the visitor with a dissatisfying experience, and ultimately a negative perception of your business.
For more in-depth analysis of how your website performs on mobile devices talk to us today.