Prepare for Symantec SSL certificate issues
Following on from Google's push towards requiring all websites to be under SSL certificates, Google Chrome will now display a warning message publicly on older listed Symantec Certificates.
As of March 15th 2018 Google have begun moves to force any customers who purchased a SSL certificate from Symantec or any of their resellers who include Thawte, VeriSign, Equifax, GeoTrust, and RapidSSL.
Subject to further change, only certificates which were issued before the 1st of June 2016 are being distrusted. This was due to some concerns raised about Symantec resellers issuing certificates to invalid and testing domains which Google was quite concerned about. For the nitty gritty detail you can see Google's plan to distrust Symantec Certificates here: https://security.googleblog.com/2017/09/chromes-plan-to-distrust-symantec.html
What this means for most people is that if someone using Google Chrome visits your secure site and your certificate was issued by Symantec or one of their resellers they will see a security warning message like this;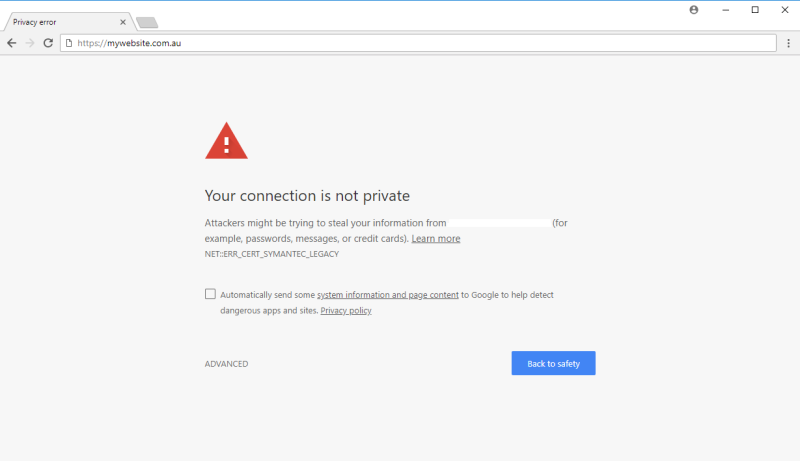 For the moment, this is only affecting a small number of sites whose developers have not yet replaced the affected certificates.
However, ALL certificates issued before the 1st of December 2017 will be distrusted on the 13th of September 2018.
There are a few ways to check sites which are going to be impacted by this larger update, these include rather big name sites such as PayPal and Symantec itself.
To check these the easiest way is to right click on the site (in Google Chrome) and choose "inspect element", then go to the console tab. If you see something like this, plan ahead to have this certificate replaced before the September deadline.