How to add website icons to your iPhone home screen
Adding website icons to the iPhone home screen
The iPhone's Home Screen contains various icons which allow you to easily navigate your device's many applications and features. One of the iPhone's many great features is the ability to add Home Screen icons through Safari making it quick and easy to navigate to your favourite websites. Read on for a step-by-step tutorial which shows you exactly how it's done.
Step 1, open Safari on the iPhone by tapping on the Safari icon, normally located on your iPhone Home Screen.
Step 2, browse to the website you wish to add a Home Screen icon for by entering the web address (URL) in the address bar.
Step 3, when the website has finished loading; select "Share" icon located at the bottom of the screen. Choose "Add to Home Screen" from the list which now overlays the browser.
In newer iPhones the Share screen looks different, like this. But the same method still applies.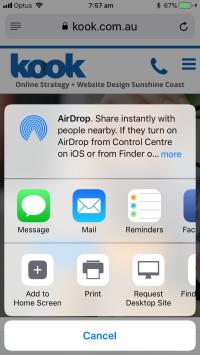 Step 4, enter the name you wish to see appear underneath the icon; something short and descriptive. Tap the "Add" button in the top-right corner of the screen. The website icon will now appear on your iPhone's Home Screen.