Google Trends: Knowing when to run a sale and the impact of Black Friday on Australia
Google Trends shows spikes in searches for EOFY in May and June, but biggest spikes of the year are at specific weeks in November and December. Can you guess which weeks?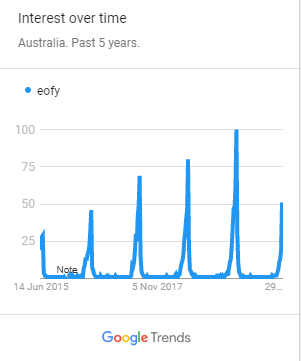 People are predictable. That's one thing we learn when we look at Google Trends, a tool Google provides for free that highlights how users use Google throughout the year.
Google has noted that in the weeks of mid to late May through end of June, there are nationwide spikes in Australia for "EOFY sale" related searches. We've come to expect this ever year, and always recommend to our clients to advertise accordingly to take advantage of this spike in search traffic.
Yet the biggest spike in "sales" related searches actually happens twice a year, every year, just like clockwork. The first is during the last week of November, in the lead up to Christmas shopping. And the second is during the days after Christmas for Boxing Day sales.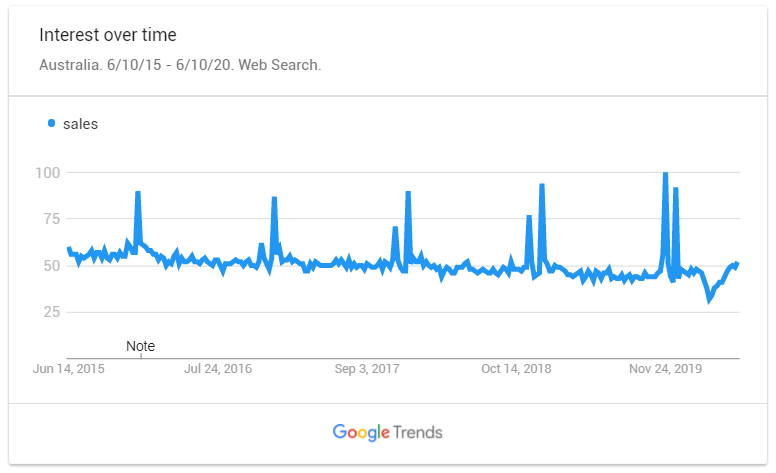 But the trends have been shifting, and it has a lot to do with America. In the years 2015, 2016, 2017 and 2018, the search traffic for "sales" in late November were always lower than in late December. But with the popularity of "Black Friday sales" in the US (the sales that businesses in America run on the Friday after Thanksgiving, which typically move them from the "red" in yearly profits to the "black"), each year has seen a shift. In 2015 and 2016, the week after Christmas showed that searches for "sales" were 37% to 39% higher than the last week of November's searches. In 2017, late December was only 25% higher than late November. By 2018, late November was catching up, only 18% behind late December. And last year, the last week of November 2019 there were actually 9% MORE sales related searches than in the last week of December 2019.
Our projections for 2020 show that the influence of Black Friday sales from the United States is likely to increase that gap. We're likely to see upwards of 15% more "sales" related searches in the last week of November than we'll see in the days after Christmas. We'd advise our clients to advertise accordingly, specifically with Google Ads search campaigns and promotion extensions, paid social website conversion campaigns, and tailored landing pages.
Looking to maximise your returns during these important times of year? Contact Kook for a free digital marketing strategy today.