Exciting $10,000 grant for digital marketing for Queensland businesses hurt by COVID19
Queensland Government has announced a new $10,000 grant that can be used towards digital marketing to support small businesses hurt by the coronavirus (COVID-19) shutdown restrictions. Contact Kook for more information.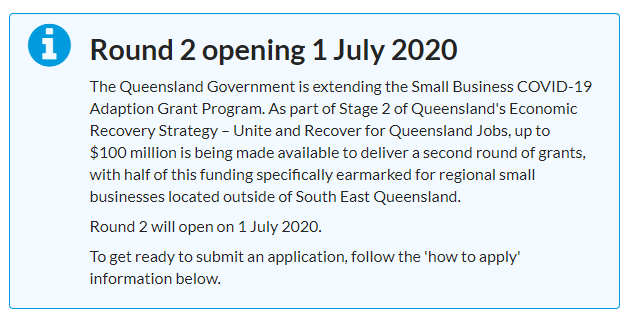 16 June 2020 Update: The Queensland Goverment has recently announced that round 2 of the Small Business COVID-19 Adaption Grant Program will open on 1 July 2020. There are up to $100,000,000 being made available to deliver a second round of grants, with $50,000,000 of this funding being specifically earmarked for "regional small businesses located outside of South East Queensland" with the other $50,000,000 dedicated to South East Queensland businesses located in Brisbane, Gold Coast, Ipswich, Lockyer Valley, Logan City, Moreton Bay, Noosa Shire, Redlands City, Scenic Rim, Somerset, Sunshine Coast and Toowoomba. An eligibility tool to determine if your business is eligible to apply can be found here. Grants will be between $2,000 - $10,000 per eligible small or micro business, and may be used towards marketing and communications activities such as web pages, mobile apps, visual and audio media, as well as digital strategy development. Projects must be completed within a maximum of 6 months from approval date of the grant.
23 May 2020 Update: Please note that on 23 May, Queensland Government announced that "due to an overwhelming number of applications we have now closed the Small Business COVID-19 Adaption Grant for new applications."
19 May 2020 Update: Kook is very excited to learn that Business Queensland (Queensland Government) recently offered a new grant for small businesses "highly impacted" by the coronavirus (COVID-19) shutdown restrictions. The program aims to help small and micro businesses "respond to online opportunities" and "where possible, to sustain employment and maintain potential for longer-term growth". Unlike other government grants, this does not appear to be a matching funds grant.
The available grant is a maximum of $10,000 per eligible small or micro business. Once again, this does not appear to be matching funds. The grant can be used for marketing and communications activities, including web pages, visual and audio media, digital strategy development, and other digital marketing aimed at building the business.
If you believe your business qualifies as one that was "highly impacted" by shutdown restrictions, Kook can help you put together a full digital marketing strategy which can be submitted with the grant application, with an objective of helping your business grow as Queensland and Federal governments work to open Australia back up. The grant application guidelines, terms and conditions, and FAQs can be found on the business.qld.gov website. These are likely to be in high demand, so we'd encourage you to contact us asap, or fill out the enquiry form found on this page.