Digital marketing strategies for Shopify sites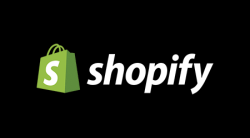 So, you've built yourself a new Shopify site! It's pretty and new and has all of your e-commerce products in your Shopify store. You've got the perfect domain name, you've printed out business cards and brochures with your new address, you've worked out the admin and have even mastered a few of Shopify's cool features. But where are your sales?
Shopify makes it very easy for new e-commerce sites to get up and running as long as you don't need a tremendous amount of customisation and don't mind looking similar to other sites. It's a good, low-cost, no frills e-commerce site for new online businesses.
But like any new website, you need a well-planned digital marketing strategy to ensure relevant traffic comes to your site and starts buying your products. Your Shopify site might look good and work well - although there are many pitfalls in DIY Shopify setups - but you need a Digital Marketing Strategy to ensure you're getting relevant traffic and that traffic is purchasing as many products as possible.
The first step in any professional digital marketing strategy for a Shopify site is to ensure it has a steady flow of organic search traffic (free searches from search engines like Google) and (more importantly) to evaluate if the site will convert well (if people who visit the site are likely to purchase from it). Both of these objectives can be achieved with a Search Engine Optimisation (SEO) program. A professional SEO program focuses on 2 main goals:
Increase relevant organic search traffic
Improve the e-commerce conversion rate (the rate at which any visitor to your website purchases something)
Most successful SEO programs are ongoing monthly programs that focus on small optimisations for measured improvements.
After ensuring a website is ranking well with organic search keywords and has a strong e-commerce conversion rate, the second step is driving paid traffic advertising to your Shopify site with the objective of achieving a strong return on investment (ROI).
Shopify sites present a number of exciting advertising opportunities. In addition to our standard digital marketing paid advertising approaches like Google search campaigns (otherwise known as Paid Search) and Facebook and Instagram website conversion campaigns (where we can target ads towards demographic, lookalike or remarketing audiences), e-commerce sites like those built on Shopify allow us to establish product feeds which can push out "dynamic" information for all of your products (meaning the information updates as you update your website's products). These feeds can be read by Facebook and Google to create Dynamic Product Ads.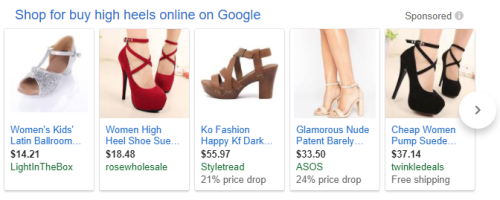 On Google, we can target the Google Shopping Network (those cool Sponsored ads on the right side or top of the screen when you do a product search on Google) so that when somebody searches for your products they see an ad showing your product's image and price (including shipping and taxes). We can also show remarketing ads highlighting actual products viewed to anyone who viewed a product on your site but didn't purchase!
Facebook and Instagram Dynamic Product Ads Campaigns allow even more possibilities! We can show remarketing ads highlighting products viewed but not purchased (including abandoned carts) to any Facebook and/or Instagram user who has been on your site. We can target products that were viewed but not added to cart, products that were added to cart but not purchased, upsell products, cross-sell products or any custom combination. We can even show the same types of dynamic product ads to new audiences of people who would be more likely to purchase from your store! We can show single image ads, carousels or ads that show collections of images, all of your products that the user has either already viewed or those you particularly want to highlight.

Would you like to learn more about online advertising strategies for Shopify sites? Contact the Digital Marketing Team at Kook today!